If you are a scrapbooker or cardmaker you probably have all kinds of tools and supplies at your disposal - so why not put them to good use and create your own party ensemble for your next event. Here's one that I created for a wedding: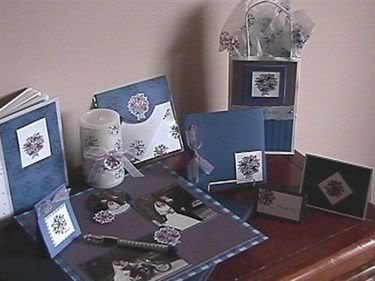 Stamp Credit: Close To My Heart In this example, I created (clockwise from top left) a Guest Book, stamped candle Table Centerpiece, a note pad/pen/and folder for the bride to keep her to-do lists and receipts as she is in planning mode, an Invitation, a Gift Bag (for wrapping Attendant Gifts), a Thank-You Card, Table Placecards, a Scrapbook Page, and a Treat Tent (Wedding Favors filled with Candy for your guests). I chose one theme and colour scheme and carried it through each item. If a wedding isn't in your immediate future, the same approach can be taken to design a shower ensemble, anniversary or birthday party set - or on a smaller scale, you could create an ensemble for the next dinner party you are hosting. If you decide to create your own ensemble here's a few things to keep in mind:
When designing each piece, I recommend keeping them relatively simple. This is especially true if you need to create a bunch of these when the time comes - so it's wise not to make the designs too complicated. Besides, sometimes the simplest design can be both the most elegant and effective.
Before you begin, be sure that you can secure enough supplies to complete your entire project. There is nothing worse than running out of your selected patterned paper when you are 2/3 of the way completed - and then finding out that it's been dicontinued or is otherwise unavailable.
If it's a wedding ensemble you are creating - encourage you Bridal party to assist you. After all with a project this size, the more hands the better - and it gives you yet another excuse to get together with the gang and socialize!
When creating items that will be delivered by post - be sure to check your local postal guidelines before you begin so you know what can and cannot go through the system and at what cost. There are often restrictions on the size of card/envelope you send and the type of envelope that is used (for example in some areas clear envelopes require additional postage), and the incorporation of 'lumpy' embellishements, like beads, into the design may result in your letters requiring manual handling - thus significantly increasing the amount of postage required.
Perhaps most important, is be sure to START EARLY! You certainly don't need the added pressure of making 100 hand-crafted invitations a week before they are due to go in the mail!
Creating your own ensemble, adds a personal touch to your celebration, and allows you greater flexibility as opposed to purchasing off-the-shelf items. And with some careful shopping can actually cost you significantly less money at the same time! ====================== If you'd like assistance creating your ensemble, or would like to learn more about how to go about it - feel free to
contact me
!