Yes, believe it or not, I'm starting to think about Christmas! I know it's only October, but....these things tend to sneak up on us if we're not prepared. Especially if you're giving some hand-made gifts. So lucky for me, I attended a 10-hour crop on Saturday, and in addition to having loads of fun, I managed to 3 gift items crossed off my to-do list. Now I can't tell you who they're for exactly because after all they might read this and it will ruin the surprise, but here's a peak at what I have done so far.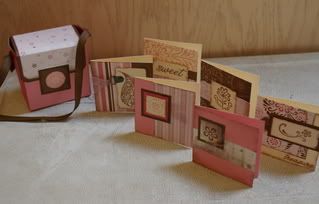 These cute little purse & card combos I put together with overcuts from a workshop I had last Spring. I was able to make 2 complete sets actually, and each set contains 12 cards, although only 6 are pictured here. Inside the paper purse, the recipient will find 2 each of the 6 gift-enclosure card designs, 12 envies. And these 2 pics are of a 20 card set of Thank-You cards, that I will package in a decorated box or tin with some envies. The recipient I have in mind for these will be overjoyed I'm sure. Because I was making 20, I decided to do 2 sets of 10 cards, but use different papers for each set. I kept the card designs simple, without a lot of technique or embellishment, but I was so pleased with how they turned out. What do you think?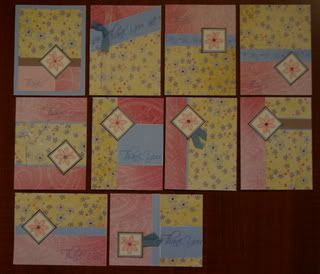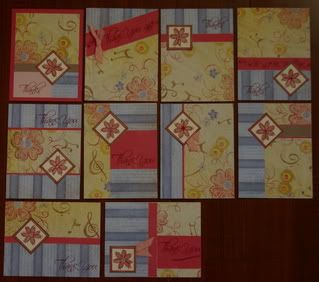 I'm also starting to prepare for my Holiday Card Workshop in November. I'll be posting the card designs soon!